Elise Matthews Personal Training Instructor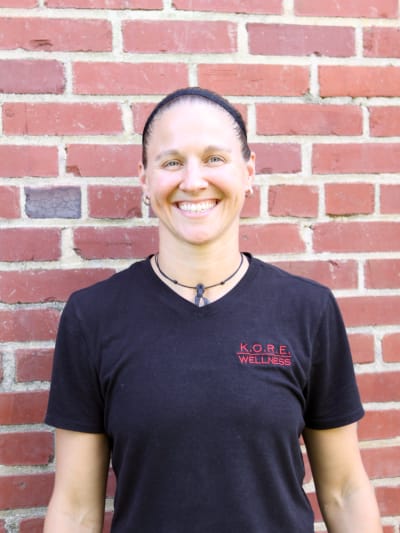 Elise Matthews
Elise has been active since high school, lettering in 4 different varsity sports, then rock climbing, and mountain biking on her weekends off. In college, she relocated to Columbia, SC where she specialized to the sport of soccer and was the goalkeeper at the University of South Carolina. During her years in college, Elise saw a lot of her fellow teammates sidelined from various injuries. This is when she began to realize the importance of proper training to stay injury free.
She majored in Exercise Physiology then continued on for her Master's degree in Applied Exercise Physiology during which she learned as much as she could about training, technique, and anatomy. She enjoyed learning about how the proper training can do more than reduce the risk of injuries, but also protect the body from all of the other chronic diseases that plague people (Heart disease, diabetes, high blood pressure, etc).
Elise started KORE Wellness at the age of 25. Since the beginning, her focus has been on providing an environment to improve the overall quality of life of every individual who walks into KORE Wellness. It is a place where people can be comfortable training no matter what their fitness or movement level.
Qualifications:
MS Exercise Physiology from University of South Carolina
Certified Strength and Conditioning Specialist
Russian Kettlebell Certified Level 2
Strong First Kettlebell Level 2 Certified
American Kettlebell Club Certified
Advanced and CK-Functional Movement Screen Certified
Primal Move Certified
Certified Egoscue Posture Specialist
Colgan Power Program Master Level Trainer
Precision Nutrition Coach
Rocksteady Boxing Certified
CPR and First Aid Certified