Rock Steady Boxing For Parkinson's
Our Boxing Classes Have Something For Everyone!
Join a community of boxers fighting back against Parkinson's disease. By taking the scientifically proven link between intense exercises like boxing and the slowing the progression of Parkinson's Disease and making it a reality, we are changing lives and restoring hope. As someone with Parkinson's Disease, are you burdened with tremors, lost range of motion, dwindling strength, lower self-confidence, and/or feeling isolated?
Upon joining the Soda City community of Rock Steady Boxers fighting back against the disease, you'll reclaim lost strength, flexibility, and the ability to move at a quicker pace. More importantly, you'll feel...
Empowered
Confident
And supported
...with a new network of friends who can relate to your struggles.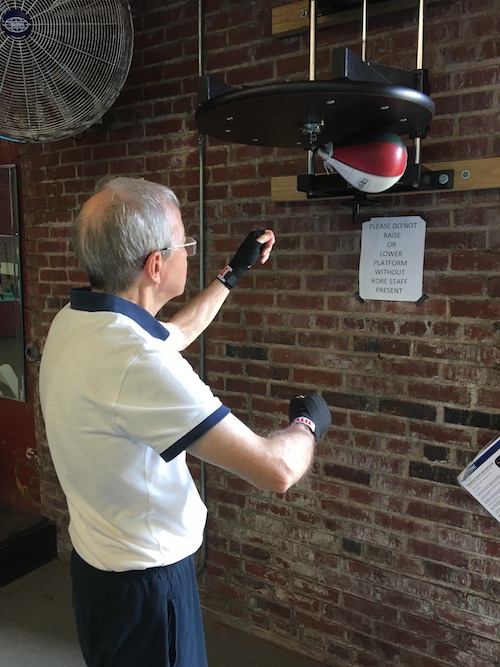 Are YOU ready to get your life back?

1. Guidance At Your Level
There are four different levels of Parkinson's disease and we primarily work with levels 1-3 due to the accessibility of our facility. We make level specific modifications for each member of the group and provide guidance throughout the session to keep you safe and to challenge you appropriately for your current level – whether you need a chair to sit in to do your exercise or you are recently diagnosed and need someone push you to that level of forced intense exercise that you need and know you won't go to on your own. We'll be helping you learn proper boxing form and ensure you are continually progressing while making sure you've made the most effective use of your time in Rock Steady Class

2. Affordable Options
Choose from 2x per week or unlimited weekly sessions. We have options to accommodate your budget with easy monthly billing.

3. Corner Men come for free
Your corner man is the person who backs you up and supports you day in, day out. We know that cornermen are a valuable part of your life and they are a treasured part of our community. Your corner man is free to participate or assist in whatever way they choose. We have some cornermen who are simply there to help and others who fully participate in class, the idea is that you both can have some fun around

4. Monthly wellness challenges to maximize your overall health
We're a Rock Steady affiliate but we're still KORE Wellness and we know that in order to have great all-around health, you need help with every area of wellness, not just boxing for Parkinson's Disease. Our monthly newsletter and wellness challenges are designed to educate you about subjects like hydration, stress-management, sleep and much much more.
Join Our Boxing Classes In Columbia Today!
Don't miss out on all the great benefits of Boxing at K.O.R.E. Wellness. We're proud to work with men and women across Columbia - regardless of your age or experience level.
Just fill out the short form on your screen to get started today!