Group Fitness Classes In Columbia
All the fun and community of group fitness – with the individual attention & expert programming that gets results.
Do you like group fitness but always find that something is missing? Do you feel like just a face in a crowd of drop-in participants where no one knows your name? Have you found yourself feeling uncomfortable, struggling to keep up, or worse yet injured by programs that are completely one-size-fits-all? Or are you just fed up with not achieving noticeable results or bored by your current fitness program?
If the answer is yes, then our Small Group Strength Training is perfect for you!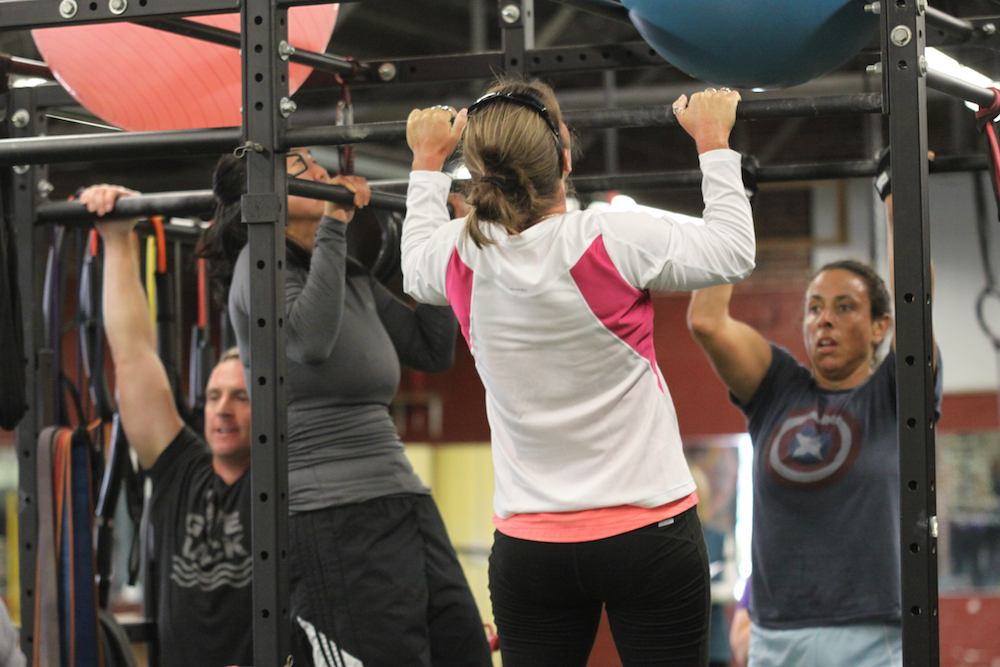 We've just revolutionized the way our small group training is run to be able to push you to your specific level and keep you safe all within a group exercise class setting! Our Small Group Strength Training offers an affordable option for those that want to belong to a friendly, family-like atmosphere of people who are motivated to build healthy habits for life. Sessions are led by our professional personal trainers in small groups with an average of 6-8 people per session.
You will be coached on proper form and given individual attention. Regardless of your initial functional level, you will find this to be a great long-term fitness program. If you're just getting started, we can accommodate your needs through providing the appropriate exercises that are specific to your level. If you are well conditioned and ready for a challenge – we can give you that push you need - all within the same group setting!
Our specialty here at KORE Wellness is functional training and we pride ourselves on providing the same attention to safe and effective programming in our Small Group Strength Training program. You'll come because you've angry with yourself for getting out of shape and want to be able to get back to the place where you can easily perform the activities of daily life without injuries. Then you'll stay for the great community environment that makes sticking with your fitness program both easy and fun!
Included With Semi-Private training:

1. Monthly wellness challenges to maximize your overall health
We're KORE Wellness, not KORE Strength or KORE Fitness, we know that in order to have great all-around health, you need help with every area of wellness, not just fitness. Our monthly wellness challenges are designed to educate you about subjects like hydration, stress-management, sleep and much much more.

2. Guidance
At Your Level We'll make level specific modifications for each member of the group and provide guidance throughout the session to keep you safe and to challenge you appropriately for your functional level – whether you're just getting started or you just need someone to help you push yourself to a level you won't go to on your own. We'll be helping you learn proper form and ensure you are continually progressing while making sure you've made the most effective use of your 45 minutes!

3. Affordable Options
Choose from 2x per week or unlimited weekly sessions. We have options to accommodate your budget with easy monthly billing. You can also choose to add to our base level online nutrition coaching to maximize your results!

4. Flexible Schedule
Fit your workouts in where it's best for you with easy online registration. Each session is 45 minutes with options to attend early morning, mid-morning, lunch, after work, or Saturday mornings. 25 sessions per week to choose from!

Class Options
Our current class options give you everything you need to achieve success with your health and wellness goals.
Cardio Boxing: An empowering non-contact boxing class that uses a variety of bags and Focus mitts to create a mentally and physically challenging workout and put a smile on your face as you kick stress to the curb.
Joint Mobility: Begin to explore your body's full range of motion with this gentle movement-based class. It is designed to reconnect you with your natural range of motion. loosen up your tight muscles and soothe your aching joints in this great recovery class.
Functional Training: Our K.O.R.E. curriculum class Alternates between a strength and cardiovascular endurance focus. each class gives you a balanced workout specific to your current functional level and has the ability to adjust as your mobility, stability, and strength improves. This class meets you where you are and grows with you.
Primal Move: A class designed to restore your body's natural movements stolen by a forced sedentary lifestyle. Learn to use your own body to improve mobility, core strength and posture.
Reserve Your Spot Today For Our Group Fitness Classes In Columbia!
Don't miss out on the best Group Fitness Classes in Columbia. We're here to help you find success fast and enjoy the results for years to come. Join us at K.O.R.E. Wellness and challenge yourself today!